As consultants, many times we are posed with a myriad of problems, solutions, and challenges. Of the foremost is how to get the most from our relationships with clients - even though we may be set on resolving issues and implementing or building solutions. A key point of any successful engagement is the relationship built between consultants, clients, and staff.
When we look at the relationship in staffing, often consultants are viewed as an external presence, an outsider, or in rare cases, a replacement. Given that perception is reality to the majority of people, these perceptions can be difficult to alter or break. In the event that a staff member managed a system for anywhere from 3-10 years and will be moving on to different applications/specialties, there is a large degree of ownership and comradery toward the service and staff supported. When these situations are encountered, rapport can be the most powerful tool at your disposal to garner confidence in the services you provide and confidence in you as a support system.
What rapport does for us:
Builds a relationship – As opposed to conducting business as strictly business, it allows us to integrate into the client culture and be a true partner in providing services.
Instills confidence – As rapport is built, users and coworkers are more personable in seeing you as a cohort and not simply a seat being filled and replaced. As your abilities are showcased, this can enhance the general reception of future achievements.
Encourages positive and constructive feedback – When you instill in people that you are there for them, even in making mistakes, the response becomes more tempered and open.
All of these are great benefits and the following suggestions provide avenues to enhance your skills with the client. Gaining rapport can vary given the many personalities and responsibilities that clients have. Meeting the challenge with the appropriate response and mannerisms will work to quickly ease tension and build the relationship.
How do I build rapport? Take Action!
View your departing analyst/role member as a mentor. Though you may know your role, there are often insights that can be gleaned from site-specific experience including culture, customizations, and common issues.
Build your relationship around a concern that you will be a good steward of your client's time and resources with shared goals in mind.
Practice neutral and attentive body language. Avoid crossed arms or overly rigid posture and cues on other focuses (watch, phone, looking to the door, etc.).
Listen more than you speak so as to get all information needed and be mindful not to appear over-confident or brash.
Read actions and reactions. Knowing how others react under differing circumstances (stress, illness, conflict, outside stimuli, etc.) through observation then acting accordingly leads us to better empathy and cooperation.
Avoid politics and hearsay. Being involved in these behaviors often leads to gossip and is a primary counterproductive behavior in the workplace.
Most importantly, be genuine. Being and acting contrary to what you express and vocalize is firm ground for mistrust.
Soft-skills (relationship skills) are a "must" for any successful service-driven endeavor. Practice in being mindful gives us a tool to continue development of character as well as how we impact our relationships.
Whether the role is technical, training, support, or advisory, we all have a part to play and can add value to service delivery.
How do you build rapport? Let us know!
Sincerely,
Greg J. Heffner, Director of Legacy Support and Data Services
615.684.5556 | gheffner@hctec.com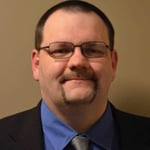 Want to receive notifications of new blog posts? Just subscribe to the HCTec Blog HERE.