How many times have we heard the phrase "We have always done it this way?" We may cringe at the notion and sometimes more so when we catch ourselves repeating the credo of our predecessors, but there are still lessons to be learned. It is easy to fall back into the concept of business as usual, but small changes can make the difference in great products/services and world class offerings. Let's step back and examine the structure of everyday business processes.
The Way We Work & Why
"We have always done it this way, so why change?" The motivated employee looks to improve the way work is conducted. Value of that individual is frequently bolstered by finding new and innovative methods to improve general processes. Is there a more efficient way to manage a process while maintaining and improving quality of products or services? The historic notion was to follow a process and develop a singular solution. Once the solution was in place, it saved time and made the manufacturing or delivery of a product consistent. While the efficiency was noted, what was done with the time saved? One would suggest that the process would not need to be "set in stone" and left to stagnate. Though a process is streamlined, there is always room for improvement. Revisiting and reengineering processes is what leads innovators to success. While it may seem trivial, documentation and redesigning processes is likely to lead to small improvements that translate to large savings.
Consider that if a desktop application were automated or redesigned to save a few keystrokes per transaction or use fewer screen toggles, it could save up to 30 seconds per instance. If the user instance is conducted 100 times per day, that would be 500 times Monday-Friday, with 52 times that number for a year that is 26000 times. 13000 minutes. That's 216.66 hours! If that is only one user, the impact is substantial. If we multiply that number by users within the process, savings are often surprising and greatly increase operating efficiency.
Continual Quality & Process Improvement
Why end development? Manufacturing pushes to the point of Six Sigma and usually ends to maintain the process when the goal is obtained. In service delivery, often we work with many moving parts and principles that are in a constant state of change while rearranging priorities. To attain higher levels of service, we can apply the same methodology as Six Sigma, but since it is a service and not a product, we may choose to initiate our own CQI. In cases where services are audited and proven to not meet standards, we move to improve the process through audits and restructure. Quality improvement does not need to stop there. A constant drive for improvement goes well beyond customer satisfaction. In meeting customer standards, we affirm our service's quality. In exceeding the standards, we affirm and improve our overall value and quality.
A Different Way of Thinking
The premise is simple, find a problem or need and develop a solution for it. At a glance it appears that there is a simple streamlined process, but we may be missing opportunities in focusing on the solution or product. Focusing on the problem is key, but many times we either look too much to the problem and solution as a starting or stopping points. At those times we may be better served to examine alternative solutions through a few additional methods including Root Cause Analysis, Alternatives, Workarounds, and Replacement. Deconstructing and reverse engineering a problem or solution will, more often than not, provide us a tool for sharpening our problem solving skills and developing solutions that are both innovative and beneficial.
We have all had relatable experiences and not all paths lead to the same specific destination. In the meantime while we find our way, encourage examination beyond need and solution and allow yourself to be more intuitive in development and analysis. Clients frequently use mixed methodology for Project and Process Management, so being adaptable can be an overall key to success.
Sincerely,
Greg J. Heffner, Director of Legacy Support and Data Services
615.684.5556 | gheffner@hctec.com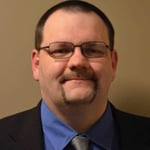 Want to receive notifications of new blog posts? Just subscribe to the HCTec Blog HERE.