When I first started coding in 1990, working from home was not an option. In 2007 I was given the option to work from home, and I jumped at the chance, not knowing what I was getting into. Many people think working from home would be an ideal situation. What I have discovered over the past nine years of working from home is it takes a lot of discipline. As an educator, one statement I hear more than any is, 'I want to work from home, so I don't have to pay for daycare.' Coders and auditors, along with many other professionals, require a lot of concentration whether working onsite or at home.
In my experience working from home, here are the keys to doing it successfully:
Have a

dedicated work schedule

and stick to it. Though facilities will say you have flex time, most still want a dedicated schedule. Also, it helps with getting in the routine. Routine is important so that the lines between your work life and personal life aren't blurred too much.

Get dressed

and change out of your pajamas. Even if it is into a pair of sweats, scrubs, or shorts just so you are less tempted to crawl back into bed.
Have a specified room for your

desk/office that is private

. This is needed for HIPAA reasons, as well as, it allows for quiet.

Take lunch daily

. I used to work through lunch almost daily. I have come to realize, I need that time to rest my brain and relax.

Quit at your normal quitting time.

This is another area I've struggled with. Trying to get it all done no matter how many hours I've put in. I realized "me" time is important for my overall sanity.

Communicate, communicate, communicate.

I may not talk on the phone every day, but I do communicate via email and IM to my colleagues. Most managers want communication from their employees regularly.

Let family and friends know you are working.

Many times people think when you work from home you have time to help them out with tasks, taking them to appointments, go out to lunch, etc. This is still your job.
Make sure to

have child care in place.
Being able to work from home has been great for me because I enjoy quiet and seclusion. I could go all day and not speak to anyone on the phone or in person, and be completely fine, but not everyone feels that way. Many people enjoy being social with colleagues, and these people would not likely be a fan of working from home.
The ability to work from home due to the increase in technology also comes with the knowledge that their productivity is monitored by the facility. If a coder is not meeting productivity and quality, most likely they will be brought back into the facility or pulled off an assignment.
Do you have what it takes to work from home? Share any ways to be successful in the comments below!
Sincerely,
Meredith McCollum, MBA, RHIA, CCS, ICD-10 Trainer
Compliance Manager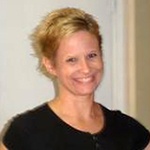 Want to receive notifications of new blog posts? Just subscribe to the HCTec Blog HERE.